Unconscious rancour and melancholic depression
Unconscious rancour and melancholic depression
digital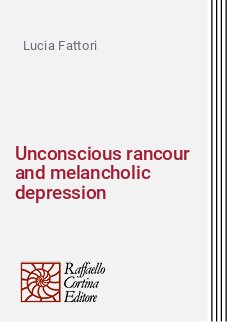 Ebook in formato Pdf leggibile su questi device:
The feeling of rancour implies two different coexisting dimensions of time. The first one is diachronic and entails a progressive deterioration of psychic life. The second one is a-temporal and is the dimension of an eternal present. This dimension is related to the trauma which is at the origin of the rancorous status. In melancholic depression – which is characterized by the direction against the self of the unconscious destructiveness that derived from the hate against an object of love who had disappointed, abandoned and humbled him – a rancorous nucleus of an anal nature seems to be present. The feeling of rancour reminds us of rancidity, deterioration and bed smells so that, paraphrasing the famous Freudian expression, we can say that «the stinking shadow of the object falls on the ego». The clinical case that is presented following the progress of the analysis, shows the progressive resurfacing during the sessions of different layers of the rancour which are progressively discovered. This disclosure allows the patient, starting from a superficial depression, to contact the nucleus of melancholy and makes the mourning process possible.
KEY WORDS: Anality, melancholia, melancholic depression, mourning, rancour.

RANCUNE INCONSCIENTE ET DÉPRESSION MÉLANCOLIQUE. Le sentiment de rancune semble impliquer deux dimensions différentes mais coexistantes du temps, l'une diachronique, liée à une dégradation progressive de la vie psychique, et l'autre  -temporelle, celle du présent éternel liée au traumatisme à l'origine de l'état rancunier. Dans la dépression mélancolique – caractérisée par le retournement contre soi-même de la destructivité inconsciente liée à la haine pour un objet d'amour qui a déçu, abandonné, humilié – il semble y avoir un noyau rancunier de matrice anale (la rancune fait référence au rancissement, à la détérioration, à la mauvaise odeur) pour que l'on puisse dire, reprenant la célèbre expression freudienne, «l'ombre puante de l'objet est tombée sur le moi». Le cas clinique, présenté à la suite de l'avancement de l'analyse, montre la réémergence progressive en séance de différentes couches de rancune qui sont «découvertes» et qui amènent le patient, à partir d'une dépression de surface, à toucher le noyau mélancolique et à rendre le deuil possible.
MOTS CLÉS: Analité, dépression mélancolique, deuil, mélancolie, ressentiment.

RENCOR INCONSCIENTE Y DEPRESIÓN MELANCÓLICA. El sentimiento de rencor parece implicar dos dimensiones diversas pero coexistentes de tiempo, una diacrónica, vinculada con un deterioro progresivo de la vida psíquica, y una a-temporal, la del eterno presente, vinculado al trauma que está en el origen del estado rencoroso. En la depresión melancólica – caracterizada por dirigir hacia sí mismo la destructividad inconsciente vinculada al odio por un objeto de amor que ha decepcionado, abandonado, humillado – se presenta un núcleo rencoroso de matriz anal (el rencor se refiere a la rancidez, al deterioro, al mal olor) para eso podemos decir, retomando la famosa expresión freudiana, «la sombra apestosa del objeto ha caído sobre el Yo». El caso clínico, que se presenta siguiendo el desarrollo del análisis, muestra la progresiva reaparición en la sesión de varias capas de rencor que se «descubren » y que llevan al paciente, a partir de una depresión de superficie, a tocar el núcleo melancólico y a hacer posible el duelo.
PALABRAS CLAVE: Analidad, depresión melancólica, luto, melancolía, rencor.

UNBEWUSSTER GROLL UND MELANCHOLISCHE DEPRESSION.Das Gefühl des Grolls scheint zwei unterschiedliche, aber nebeneinander bestehende Dimensionen der Zeit zu implizieren, eine diachrone, die verbunden ist mit einer progressiven  erschlechterung des psychischen Lebens, und eine a-temporale, diejenige der ewigen Gegenwart, die verbunden ist mit dem Trauma, das am Ursprung des Zustands des Grolls steht. In der melancholischen Depression – die sich auszeichnet durch ein Wenden der unbewussten Destruktivität, die verbunden ist mit dem Hass auf ein geliebtes Objekt, das enttäuscht, verlassen, erniedrigt hat, gegen sich selbst – scheint ein nachtragender Kern der analen Matrix präsent zu sein (der Groll verweist auf die Ranzigkeit, den Verderb, den Gestank) so dass man, die berühmte Freud'sche Formulierung aufgreifend, sagen könnte «der widerwärtige Schatten des Objekts ist auf das Ich gefallen». Der klinische Fall, der dem Verlauf der Analyse folgend vorgestellt wird, zeigt das fortschreitende Wiederauftauchen von verschiedenen Schichten des Grolls in der Sitzung, die «entdeckt» werden und die den Patienten von einer oberflächlichen Depression ausgehend dazu bringen, den melancholischen Kern zu berühren und die Trauerarbeit zu ermöglichen.
SCHLÜSSELWÖRTER: Analität, Groll, Melancholie, melancholische Depression, Trauer.