The unforeseen. Risking the ungovernable
The unforeseen. Risking the ungovernable
digital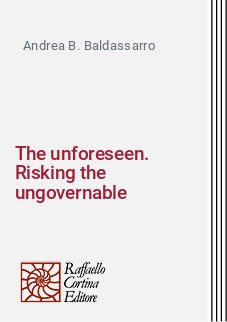 Ebook in formato Pdf leggibile su questi device:
Starting from the etymology of 'risk', unforeseen situations are addressed, making the task of governingtheir consequences difficult. The effect and consequences of the recent pandemic, with its disruptive effect on behaviour and life, reduced to pure survival, in order to defend which a deadly principle has been embraced, that of dissolving the bonds that constitute the essence of life itself. The risks of the digital revolution, which leads to mutual control and surveillance to manipulate and influence behaviour and opinions. And in which otherness disappears, in the name of an inclusion that erases differences. Finally, the borderlines are examined as exemplars of the prevailing psychic condition, with their problems due to the difficulty of establishing boundaries, limits between self and other, with the consequent risk of psychic collapse.
KEY WORDS: Unexpected, ungovernable, survival, otherness, borders, breakdown.