Vincent's information. Risk in youth and applied psychoanalysis
Vincent's information. Risk in youth and applied psychoanalysis
digital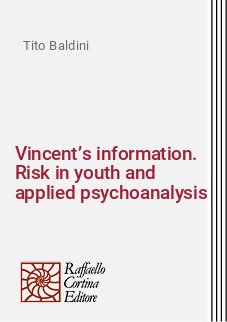 Ebook in formato Pdf leggibile su questi device:
In response to the request of Editor-in-Chief of the Rivista di Psicoanalisi, Lombardozzi, the author provides a comprehensive account of his professional journey spanning over forty years. Throughout this trajectory, he grappled with the tension between social intense needs that manifest as psychic suffering and the helping dimension within the prism of the  potential use of psychoanalysis. The repeated scientific verification of high efficacy coefficients of psychoanalytically-oriented supporting methods favoured their development and  expansion over time. In Baldini's journey, the pivotal role played by the Italian Psychoanalytic Society is emphasised, as the Society actively engaged with public institutions and private  social organisations, universities, the cultural realm, journalism, and local and central administrations. Throughout the author's account, the theme of risk looms large, intricately linked  to the concept of prevention. It emerges as the back drop, permeating every facet of institutional and personal helping professions.
KEYWORDS: Applied psychoanalysis, institutions, prevention, private social life, risk, social.