Doctor, I want to get it over with! The analyst and the risk of suicide
Doctor, I want to get it over with! The analyst and the risk of suicide
digital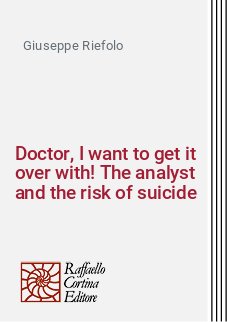 Ebook in formato Pdf leggibile su questi device:
It is proposed to differentiate suicide from suicide attempts (or even communications). On a dynamic level, the former represents the net loss of all investment in/on the Self, while the latter represents an extreme and powerful investment in it. Suicide attempts are not the search for death, but the attempt to adapt the body's potentialities to the potentialities of the  Self. The body, therefore, is summoned to a buffer function of uncontainable anxieties on an affective or symbolic level. Finally, the containment of suicide attempts may be possible  through modifications of the setting that, in the logic of the Enactment Process, are transferentially solicited by the patient. The analyst modulates and cares for a setting in which the patient can trace specific elements that tell of his presence and that the analyst introduces as a concrete signal of his capacity for intimate listening.
KEY WORDS: Body-buffer, deformed self, enactment, setting, suicide attempts.