The Missing Piece. On the trail of a metapsychology in step with the times
The Missing Piece. On the trail of a metapsychology in step with the times
digital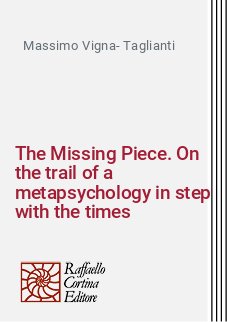 Ebook in formato Pdf leggibile su questi device:
This paper aims to highlight the journey made by psychoanalysts starting from Freud and his original topographical formulation of the unconscious up to the most recent developments which, by placing more and more emphasis on the bipersonal and group dimension of the birth of the mind, have further elaborated the Unconscious System, assigning it increasingly complex transformative roles and functions. In particular, the article identifies some «evolutionary lines» that have marked, over time, the development of models of mental functioning, and therefore also of the unconscious part of it. Lastly, it addresses the theoretical and technical implications of the pathway that starts from the idea of an
unconscious functioning primarily aimed at removing impulses, affects and desires that are incompatible with consciousness, and arrives in our own time at the conception of an unconscious that is more physiologically symbolopoietic, imaginable as a psychic organ capable of performing an osmotic-representative function in relation to internal and external reality.
KEY WORDS: Mental functioning, metapsychology, missing piece, structure, unconscious.